Today, an increasing number of work steps involved in storing items in warehouses, as well as retrieving these items and preparing them for dispatch, are being taken over by automatic storage and retrieval machines, driverless transport systems and intelligent logistics robots. HT-GEAR drives and the typical logistics' requirements – maximum power, speed and precision with minimum volume and weight – are simply the perfect match.
Once an order is placed, the logistics chain is set into motion. Beginning with picking up and retrieving items such as small boxes for pharmaceuticals & spare parts. Depending on the type of warehousing system, robots are equipped with either lifting platforms, telescopic arms or grippers,  which identify, select and quickly move boxes or trays. Typical drive units found on modern mobile robots for their lifting, sliding and gripper arms use high-performance brushless DC-servomotors with a planetary gearhead and Motion Controller from HT-GEAR. When used in the lifting platforms, this drive system ensures precise positioning, exact retrieval and reliable processes during continuous 24-hour operation, as they must function reliably at very low maintenance levels & little downtime. Most of their time, the automated loading/unloading processes are monitored by sophisticated camera systems. HT-GEAR motors are, again, frequently used to accurately drive these cameras' 3D gimbal as well as focusing movements.
After placing several smaller items with high precision on a platform, the goods must be prepared for dispatch. Automatic storage and retrieval machines or driverless transport systems take over. These autonomous mobile robots (AMR) usually use two different methods to move between stations. Usually, drives directly drive the wheel hub, often with additional encoders, gearheads or brakes. Another option would be to use a V-belt or similar designs to indirectly drive the AMR's axles.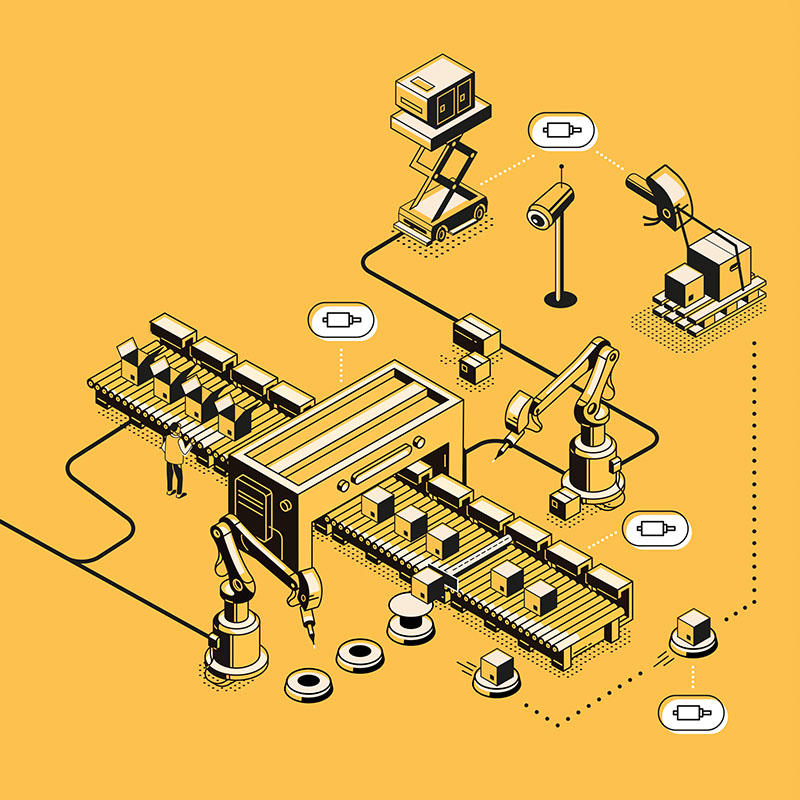 For both options, brushless DC-Servomotors with 4 Pole Technology with dynamic start/stop operation, speed control, high precision and torque are a great choice. If a smaller system is desired, the flat HT-GEAR BXT series suit best. Thanks to innovative winding technology and optimum design, the BXT motors deliver a torque of up to 134 mNm. The ratio of torque to weight and size is unmatched. Combined with optical and magnetic encoders, gearheads and controls, the result is a compact solution to drive computer-controlled, autonomous transport vehicles.

Long service life and reliability

Low maintenance requirements

Minimal installation space

Dynamic start/stop operation