Modern pharmacies have nothing to do with the ancient ideal of a pharmacist mixing individual recipes and handing out his handmade drugs such as pills or powders. Today, the range of pharmaceutical products is as diverse as the patients' needs. After a patient hands over the prescription, a pharmacist simply enters it into his computer and merely seconds later, drugs are dropping out of an automated dispenser. Powerful yet space-saving micromotors from HT-GEAR made that innovative process possible.
When it comes to managing a diverse range of drugs, large-volume storage is essential. Distributors also have to deal with various means of packaging, such as loose filling of pills in larger storage boxes or ready-packed larger units in boxes, jars or tubes. A distribution system must be capable of selecting, counting and transporting all of these units in a manner that is fail-safe. And, at least for hospitals and online pharmacies, the system must be able to run 24/7.
When fully or partially automated storing systems place drugs into shelves, their gripper arms are capable of grabbing round pill boxes with the same amount of precision as cardboard boxes, independent of their individual size or weight. This is where HT-GEAR comes into play. Thanks to their special design, brushless motors from HT-GEAR like our 22mm BX4 series are ideal for use in such high-performance applications with very high requirements on precision, compactness as well as reliability. Cameras, also moved by HT-GEAR, measure and identify each package and provide information for the commodity system. And that information is later used to safely dispense pill boxes, packages, tubes or jars.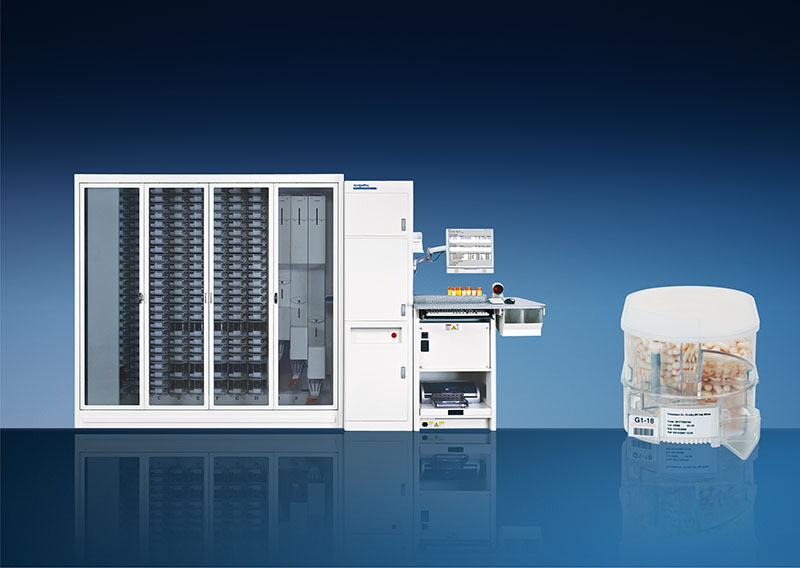 Modern micromotors are the perfect solution, especially where challenging demands call for a compact design. No matter if your application requires powerful drives for compact transport solutions, dynamic drives for flexible gripper solutions for handling goods or reliable monitoring of individual process steps through cameras, HT-GEAR always has the perfect solution. Your pharmaceutical automation, even with utmost demands, can be realized, thanks to our broad portfolio.


Highest precision and reliability

Minimal installation space