12V Stepper motor driver 24V 50V Match 0.3A 2.5A
Product Detail
Product Tags
| | |
| --- | --- |
| Product Name | Stepper motor driver |
| Size | 93*97.1*21mm |
| Usage  | Match For Stepper Motor 28,35,39,42mm |
| Input voltage | 12V/24V/50V |
| Use Occasion  | Avoid Dust, Oil And Corrosive Gases |
| Drive Current | 0.3-2.5 A |
| Cooling Mode  | Natural Or Forced Cooling |
| MAX Viration  | 5.9m/S2 Max |
| Operating environment Temperature | 0~+40°C |
| Highest Environment Humidity | 90%RH(No Condensation) |
| Net Weight | 0.273Kg |
| Storage temperature | -10~70°C |
| | | | | |
| --- | --- | --- | --- | --- |
| Driver parameters | Minimum value | Typical value | Maximum value | Unit |
| Input voltage | 12 | 24 | 50 | VAC |
| Drive current | 0.3 | - | 2.5 | A |
| Input pulse frequency | 1 | - | 1M | Hz |
| Input pulse width | 250 |   | 5E+8 | ns |
| Input signal voltage | 3.6 | 5 | 24 | VDC |
| | |
| --- | --- |
| Cooling mode | Natural cooling or forced cooling |
| Operating environment temperature | 0~40℃ |
| Highest environment humidity | 90%RH (no condensation) |
| Storage temperature | -10 ~70℃ |
| Maximum vibration | 5.9m/S2 max |
| Use occasion | Avoid dust, oil stain and corrosive gas |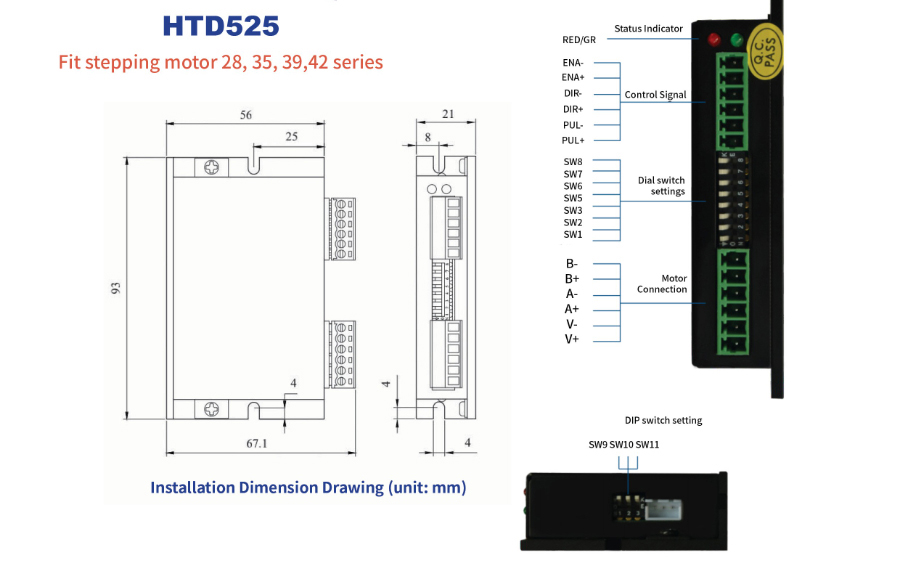 Motor parameter selection and matching
● Subdivision setting
In order to adapt to types of motors, and to achieve high-speed, low-speed vibration and low-noise performance when matched with the motor, the HTD525 two-phase stepper motor driver internally
sets different PID parameters for different motor parameters that customer can choose.
Motor parameter matching is performed by SW9 dial switch, ON=small inductor motor, OFF=large inductor motor.
● The HTD525 two-phase stepper motor driver can perform two modes of pulse + direction and double pulse control. The pulse + direction is the input pulse signal always exists, and the direction is controlled by the high and low levels of the direction input.
The double pulse means that both the pulse input and the direction input are pulse inputs, one is forward pulse input, and the  other is reverse pulse input.
Note: When switching between single/double pulse, you need to turn off the power and power on again to take effect.
Stepper motor automatic assembly line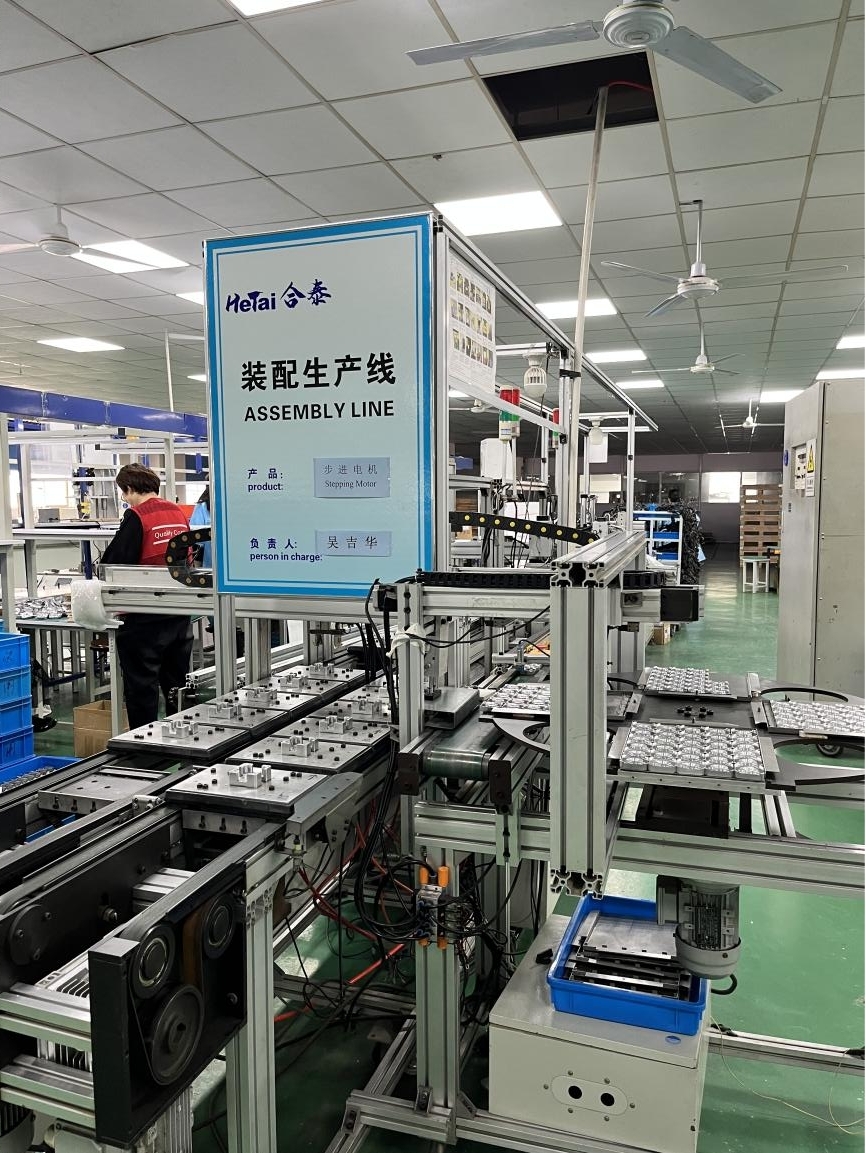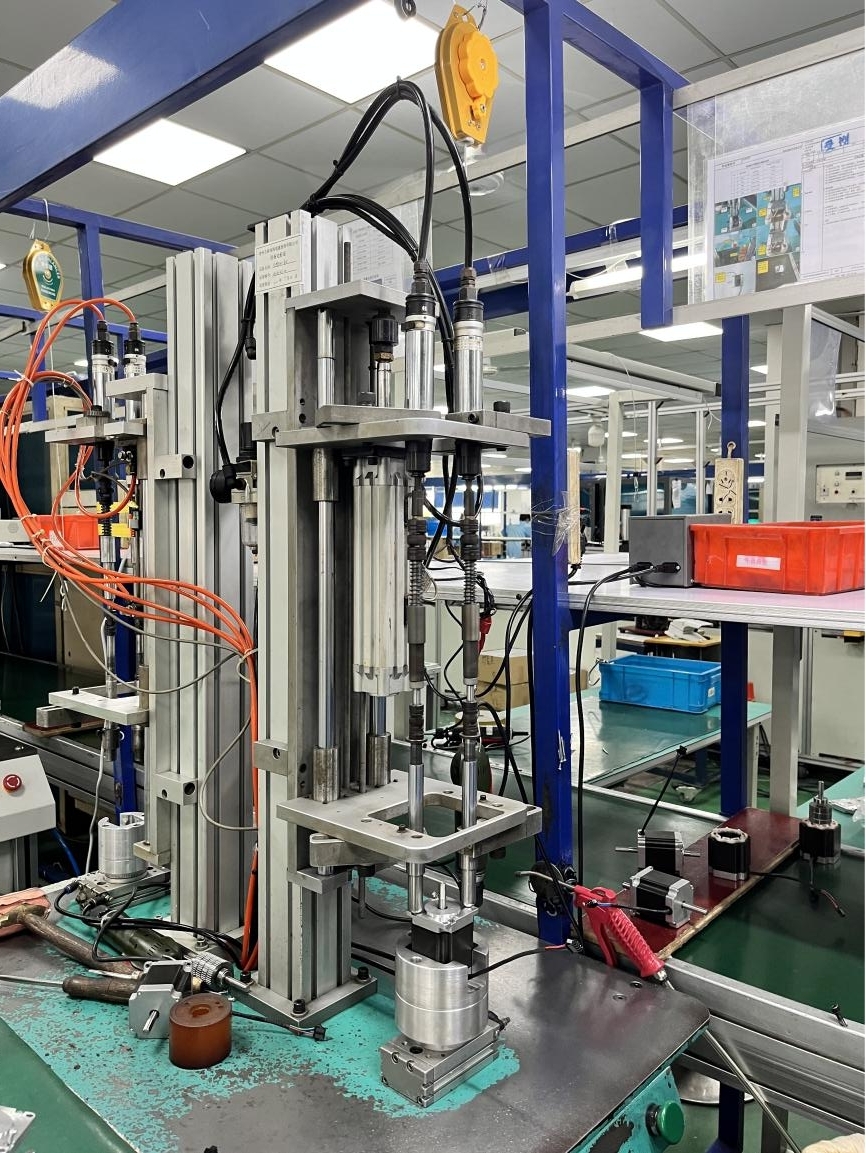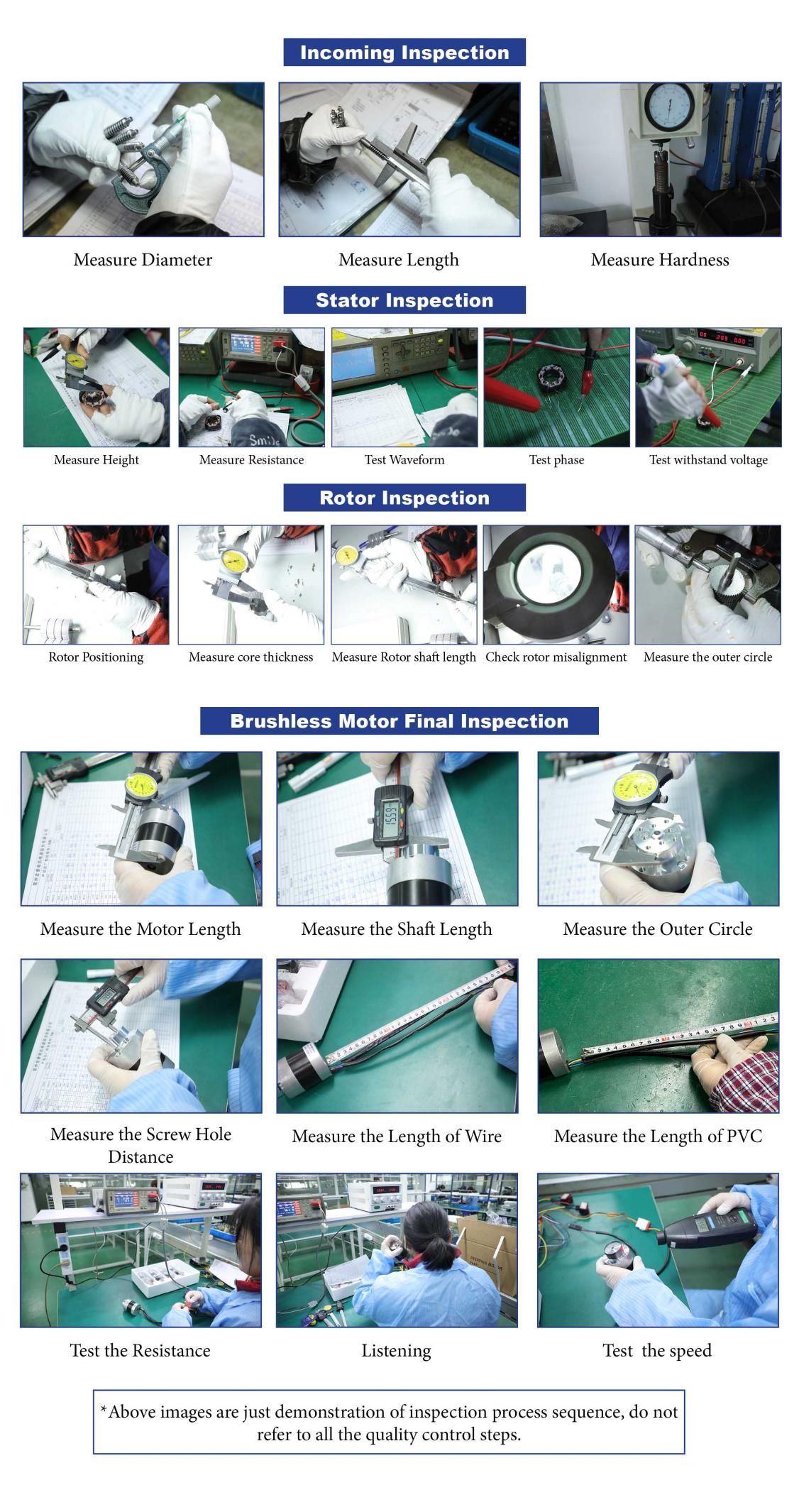 We offer you:
Engineering Support
Our professional team can help you to find the right and suitable motor for you. Our engineers have rich experience of motion control products in various industries, such as robots, packing machinery, textile machinery, medical instruments, printing machinery, intelligent logistics equipment, and so on.
Manufacturing Support
Regardless of the volume of the order, we will provide the same service. Our engineering team is able to provide you with quick and accurate prototypes based on your custom requirements.
Our Factory was founded in 1999 and the workshop area is over 15,000㎡. We have our own manufacturing line and CNC machining center, including precision CNC universal grinder brand name (Sweden), CNC brand name (Germany), DMG lathe and milling, DMG lathe, Mahr measuring instrument, Chinese precision cylindrical grinding machine, CNC lathe machine, automatic multi-head winding machine, automatic assembling line and so on.
---
---
Write your message here and send it to us